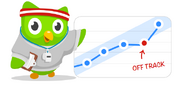 The Coach is a motivational and goal-tracking feature that prompts the learner to choose a daily XP goal that they must meet in order to continue their streak.
Description
Edit
According to Luis von Ahn:[1]
You choose a difficulty level or "track," and each day the Coach tells you how many points you'll need to earn in order to stay on that track. Once you've completed those requirements for the day, the Coach will let you rest until the following day, when you'll be able to see a brand new goal.
Troubleshooting
Edit
References
Edit
↑ Luis von Ahn. "First Gift: The Language Coach and Virtual Shop arrive on iOS". Retrieved 2015-03-29.
See Also
Edit
Ad blocker interference detected!
Wikia is a free-to-use site that makes money from advertising. We have a modified experience for viewers using ad blockers

Wikia is not accessible if you've made further modifications. Remove the custom ad blocker rule(s) and the page will load as expected.