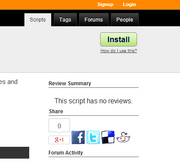 This page lists unofficial third-party userscripts intended to enhance the Duolingo experience. These userscripts are not endorsed by Duolingo and may cause unforeseen problems, so exercise caution before installing them.
If you experience a problem with a userscript deactivate it immediately, and try to contact the author of the script directly to see if it can be fixed.
Note: Duolingo may ban users for using scripts that break their Terms of Use or Guidelines [1].
Use userscripts at your own risk.
How to install scripts
Edit
Scripts can installed in browsers using tools such as Tampermonkey  (be careful to install the Tampermonkey extension and not the Tampermonkey application) or Greasemonkey .
Scripts can be installed from Github by pressing the 'raw' button on the script's page.
Script
Description
Remove ALL Sticky Posts
Removes ALL sticky posts, allows to see more user submissions.

Click here for the raw script text: http://pastebin.com/5k9BzC2S

From this discussion:

https://www.duolingo.com/comment/20277532$comment_id=20284970

Doesn't work on: duolingo.cn

Duolingo Flag Language
Shows you the language name when you hover your mouse over a flag.
Duolingo Script Bundle 
Includes easier accents (alt key + letter), lesson review, etc..[2].  See also: HodofHod/Userscripts.
Enhanced Language Course Switcher
+ Link to last WIU
+ List of all courses
List courses of all phases with a more user-friendly list than default one (especially if you follow many courses). Includes also a direct link to the last WIU. Works (only) with the new version of the website[3]. More details here.
Tree trimmer / Updated Tree Trimmer
"This adds a button to the tree, which allows you to filter out all golden skills, locked skills and test-out buttons with one click. So that you can focuss on the skills you need to practice.."[4]
Flag background
"This script changes the background of Duolingo to a grunge flag (most of them by http://think0.deviantart.com) corresponding the language you are learning.

This script now supports the flags for: Danish, Swedish, Norwegian, Irish, Esperanto, Vietnamese, Hungarian, Turkish, Irish, French, German, Portuguese (Brazil flag), Spanish (Spain flag), Italian, Dutch, Ukrainian, Polish, Greek and eventhough there is no sign of it: Icelandic. Update: Now English (American flag) as well."[5]

DuoTweak
Many different tweaks including dictionary, Duolingo time zone reset and so on[6]
Duoforumhacks
Previews a thread's opening post, & quotes previous poster.[7]
DuoDirectLinks
This script adds the direct links for discussion comments, translation sentences, and activity stream events.[8]
DuoMoreLingots
This script allows you to give more than one lingot in two clicks.[8]
DuolingoTreeEnhancer

User script for a better experience when using Duolingo. The following options are available[9]:

Keep per-tree settings for listening/speaking exercises.
Make all the exercises listening exercises (hide the question unless you hoover over it).
Read your answers aloud.
Hide clues (e.g pictures).
Make Duo better for reverse trees.

More Duolingo hotkeys
Allows solving all exercises using only the keyboard.
Duolingo Auto-Follow Fix
Fixing the things Duo breaks. Auto-follow discussions upon posting either a comment or a reply. (Works for sentence discussions too.)
See also
Edit
References
Edit