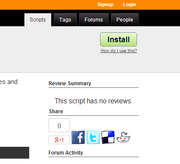 This page lists unofficial third-party userscripts intended to enhance the Duolingo experience. These userscripts are not endorsed by Duolingo and may cause unforeseen problems, so exercise caution before installing them.
If you experience a problem with a userscript deactivate it immediately, and try to contact the author of the script directly to see if it can be fixed.
Note: Duolingo may ban users for using scripts that break their Terms of Use or Guidelines [1].
Use userscripts at your own risk.
How to install scripts
Edit
Scripts can installed in browsers using tools such as Tampermonkey  (be careful to install the Tampermonkey extension and not the Tampermonkey application) or Greasemonkey .
Scripts can be installed from Github by pressing the 'raw' button on the script's page.
Script
Author
Description
Screenshot
Remove ALL Sticky Posts
ELIEDER
Removes ALL sticky posts, allows to see more user submissions.

Click here for the raw script text: http://pastebin.com/5k9BzC2S

From this discussion:

https://www.duolingo.com/comment/20277532$comment_id=20284970

Correction insistor
eedrah /
Insists on retyping the correct answers before progressing.
Duolingo: Refund Store Items
alexstewartja/ alexstewartja
Allows users to cancel store item purchases and regain spent lingots.
Duolingo: Toggle Fluency Percentage
alexstewartja/ alexstewartja
Allows users to conveniently show/hide their fluency percentage.
Incubator Stats
vaughanchandler
Show percentages of Phase One languages in the incubator. 
Duolingo Stats
vaughanchandler
Shows a progress chart for the last 7 days; shows other people's trees on their profile.
Duolingo Flag Language
vaughanchandler
Shows you the language name when you hover your mouse over a flag.
Duolingo Script Bundle 
HodofHod/ HodofHod
Includes easier accents (alt key + letter), lesson review, etc..[2].  See also: HodofHod/Userscripts.
Language Course Switcher
andrewmof
"A userscript for people who are constantly switching courses on DuoLingo from different source languages"[3].

Language Course Switcher (Improved)
arelolek
"An improved version of the Language Course Switcher userscript. Now keeps track of the languages you use."[4].
Language Course Switcher + List of all courses
jrikhal
List courses of all phases and let allow a "one-click" switch to any Phase 2 and Phase 3 course. Works (only) with the new version of the website[5].
Lingo vocab
killkeeper
"This script, or LingoVocab, was created to integrate vocabularies into the study sessions."[6]

Lingo Immersion TTS
killkeeper
"Provide Text-to-speech (TTS) functionality within the Duolingo's Immersion/Translation page, using Google Translate's voice synthesizer."[7]
Lingo Google TTS
killkeeper
"Listen to the pronunciation (still synthetic though) of phrases and sentences from Google translate during your Duolingo language study!"[8]
Mdict
killkeeper
"a global dictionary that is located on the top navigation bar"[9]

Duolingo widescreen translation
szaliszali
Enhancements for Immersion: increased document size, always show DuoBot translation with one-click copy to the input box
Duo-immersion-bookmarks
HodofHod

/ HodofHod

Allows users to bookmark specific lines/sentences in immersion and quickly go to them later.
XP Progress Bar
th23x
Will readd the XP Progress Bar to your Startpage, if you lost it due to the introduction of the coach-feature[10]
Course Progress
martinhrvn
"Shows your progress in your course as num[b]er of Skills passed vs total and number of Lessons passed vs total"[11]
Custom XP Goal
halfdan (skelkingur )
Allows you to set a custom XP goal on the Coach settings page.

More Duo!
Torsby
"Since Duo is such a cute owl, I thought it'd be nice to see a little more of him. This userscript adds him to the homepage. And it's not just a picture of him: it's animated and it comes in four flavours corresponding to the current percentage of your daily goal."[12]
Tree trimmer / Updated Tree Trimmer
Torsby / arekolek
"This adds a button to the tree, which allows you to filter out all golden skills, locked skills and test-out buttons with one click. So that you can focuss on the skills you need to practice.."[13]
Flag background
Torsby
"This script changes the background of Duolingo to a grunge flag (most of them by http://think0.deviantart.com) corresponding the language you are learning.

This script now supports the flags for: Danish, Swedish, Norwegian, Irish, Esperanto, Vietnamese, Hungarian, Turkish, Irish, French, German, Portuguese (Brazil flag), Spanish (Spain flag), Italian, Dutch, Ukrainian, Polish, Greek and eventhough there is no sign of it: Icelandic. Update: Now English (American flag) as well."[14]

Duolingo skill strength
skelkingur
"Calculate[s] the skill strength based on the average strength of each word in that skill"[15] NOW UPDATE FOR NEW WEBSITE
DuoTweak
HeadwayCourse
Many different tweaks including dictionary, Duolingo time zone reset and so on[16]
Duoforumhacks
Dessamator
Previews a thread's opening post, & quotes previous poster.[17]

DuoJumbles
Dessamator
DuoJumbles - A game based on word scramble (jumbles) , the idea is to find out what the scrambled word is.
DuoDirectLinks
FieryCat
This script adds the direct links for discussion comments, translation sentences, and activity stream events.[18]
DuoLessonsFix
FieryCat
This script pauses the timer between exercises in the timed practice.[18]
DuoLimit500
FieryCat
This script warns you when you exceed the limit on the length of the activity stream message.[18]
DuoMoreLingots
FieryCat
This script allows you to give more than one lingot in two clicks.[18]
Reverse Tree Enhancer
guillaumebrunerie / Latcarf
Makes a reverse tree more practical for someone really learning the base language of a course.[19]
Duonews
joaopimentel
Shows sentences from Google News when double-clicking a word in the "Words" page or in the exercises of a lesson/practice that ask you to translate a sentence from the target language to the base language.[20]
NoPeekPractice
Michael Snowden
Prevents peeking in practice mode
See also
Edit
References
Edit
Ad blocker interference detected!
Wikia is a free-to-use site that makes money from advertising. We have a modified experience for viewers using ad blockers

Wikia is not accessible if you've made further modifications. Remove the custom ad blocker rule(s) and the page will load as expected.