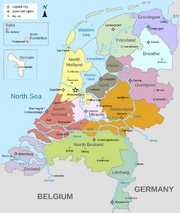 Dutch Geography, Landmarks & Infrastructure is the sixty-third (assuming left to right) skill in the Dutch language tree with seven lessons[1]. These lessons contain vocabulary about distinctly Dutch landmarks and also Dutch geography.
Groningen = Groningen
Flevoland = Flevoland
de provincie = province
Friesland = Friesland
geboren = born
Holland = Holland
Zeeland = Zeeland
Limburg = Limburg
het dijk = dike
beschermen = to protect
zuidelijker = more southern
Noord-Brabant = North Brabant
de polder = polder
den Haag = The Hague
Utrecht = Utrecht
Noord-Holland = North Holland
Zuid-Holland = South Holland
Gelderland = Gelderland
grachten = canals
Gouda = Gouda
Drenthe = Drenthe
de hunebed = dolmen
Kerkrade = Kekrade
vieren = to celebrate
Overijssel = Overijssel
Rotterdam = Rotterdam
het carnaval = Carnival
de zeehond = seal
het waddeneiland = island formed from a polder
de duin = dune
Vlieland = Vlieland
Texel = Texel
Noordzee = North Sea
verteld = told
de vuurtoren = lighthouse
behoren = to belong to
Terschelling = Terschelling
Schiermonnikoog = Schiermonnikoog
Ameland = Ameland
de zeemeeuw = seagull
vliegen = to fly
het file = traffic jam
de snelweg = highway
de verkeersprobleem = traffic problem
de vertraging = delay
de verkeersinformatie = traffic report
de spits = rush hour
References
Edit
Ad blocker interference detected!
Wikia is a free-to-use site that makes money from advertising. We have a modified experience for viewers using ad blockers

Wikia is not accessible if you've made further modifications. Remove the custom ad blocker rule(s) and the page will load as expected.