Sports is the fifty-fourth skill in the Dutch language tree. The five lessons of this skill teach the learner of Dutch about sports and recreational activities[1].
Cultural Notes
Edit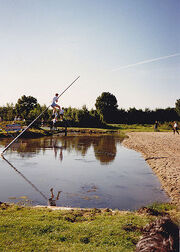 Fierljeppen
is the official sport of Friesland and has been considered similar to pole vaulting.
[3]
Outside of the Netherlands, this sport is rare.
de bal = ball
het spel = game
de wandeling = walk
de sport = sport
de ploeg = team
de speler = player
gooien = to throw
het doel = goal
het punt = point
scoren = to score
het voetbal = soccer
het basketbal = basketball
tennis = tennis
de korfbal = korfball
het racket = racquet
het volleybal = volleyball
schoppen = to kick
springen = to jump
de coach = coach
sporten = to exercise
de hockey = hockey
de wedstrijd = competition
de marathon = marathon
de sportschool = gym
de kampioenschap = championship
de atleet = athlete
schaatsen = to skate
wonnen = won
de doelman = goalie
de scheidsrechter = referee
de middenvelder = midfielder
de verdediger = defender
koppen = to head
de cricket = cricket
fierljeppen = to fierljep (see Cultural notes above)
References
Edit
↑ commons.wikimedia.org/wiki/File:Fierljeppen_de_natsprong.jpg#/media/File:Fierljeppen_de_natsprong.jpg. Retrieved 2015-7-29.
↑ en.wikipedia.org/wiki/Fierljeppen. Retrieved 2015-7-29.