French for English is a Duolingo language course that teaches French to speakers of English. It was one of the original courses available on Duolingo. [1] It contains 75 skills (78 including bonus skills).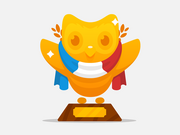 Authors' notes
Edit
I've never used this thing before, so I figured I might give it a shot. Grammar notes are going live today! So far, the main issue is the formatting. There's no padding after tables or lists, and list formatting is weird. Otherwise, I think we might have to shrink the notes down ...
References
Edit
Ad blocker interference detected!
Wikia is a free-to-use site that makes money from advertising. We have a modified experience for viewers using ad blockers

Wikia is not accessible if you've made further modifications. Remove the custom ad blocker rule(s) and the page will load as expected.