Some approaches to setting up Duolingo are covered in this section.
Where are my settings?
Edit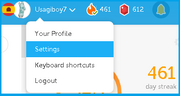 Hover your mouse cursor over your username on the blue bar at the top of the screen. A drop-down menu with a "Settings" option appears.
Visit the URL https://www.duolingo.com/settings/account to go directly to your settings. (You must be signed in to Duolingo for this to work.)
The settings include Account, Learning Language,Profile,Password,Notifications, and Coach.
Profile Picture To add or change your profile picture, go to Settings > Account > Upload > Save
How do I deactivate my account?
Edit
Go to Settings > Account > "Deactivate my account" > Save

How do I change or disable notifications
Edit
How do I activate my microphone
Edit
The speaking exercises must be enabled in the settings to work. Web browsers may also require adobe flash player.
Ad blocker interference detected!
Wikia is a free-to-use site that makes money from advertising. We have a modified experience for viewers using ad blockers

Wikia is not accessible if you've made further modifications. Remove the custom ad blocker rule(s) and the page will load as expected.