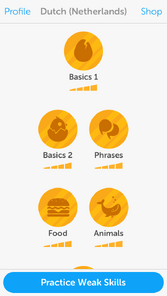 Duolingo is available as an iOS app[1] in addition to its website and other mobile apps.
Description
Edit
The iOS app is simplified compared to the website, and therefore does not include discussions (either in the forums or sentence-specific), full profile views, or timed practice. In addition, not all language courses are available.
Unlike the Android and Windows Phone apps, as of March 2015 the iOS app uses the "progress bar" system for lessons and practices rather than hearts.[2]
The iOS app was the first platform to include the Coach feature.[3]
iOS-specific features
Edit
Duels was a feature that allowed users to compete with each other or with a computer completing exercises in real time. The feature has been unavailable since version 4.0.5.
References
Edit
↑ "Duolingo on the go". Duolingo. Retrieved 2015-03-29.
↑ "Duolingo - Learn Languages for Free on the App Store on iTunes". iTunes. Retrieved 2015-03-29.
↑ Luis von Ahn. "First Gift: The Language Coach and Virtual Shop arrive on iOS". Retrieved 2015-03-29.
Ad blocker interference detected!
Wikia is a free-to-use site that makes money from advertising. We have a modified experience for viewers using ad blockers

Wikia is not accessible if you've made further modifications. Remove the custom ad blocker rule(s) and the page will load as expected.