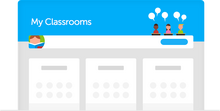 Duolingo for Schools
allows users (or teachers) "to track all their students in one place"
[1]
[2]
.  Around October 2015 it became quite popular with more than 100000 signed up teachers
[3]
.
Purpose
This new dashboard is meant to aid teachers to improve their language instructions. The goal "is to provide a personalized learning experience that gives each student and instructor immediate feedback in the classroom"[2].
How it works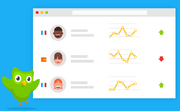 Duolingo for schools allows users to filter and keep track of their students, in addition according to SLJ[4]:
Skill levels plus XPs give rough guidelines of student progress. Teachers receive weekly skill and lesson summary reports, which can be easily shared with parents.
Users can also refer to the School Feature Userguide.
Features
Classroom Practice
This practice involves "a session that is tailored to your classroom's overall language level."[5], however, unlike a normal practice it doesn't include listening and speaking exercises.
Privacy settings
This feature is meant to control the "privacy settings of students in your class"[6], and allows one to disable forums and the activity stream[7].
Data Export
Allows users to "export classroom summaries to CSV".[8]
Course Content explorer
Allows users to "see an overview of the entire course and find out what to expect from each skill in advance"[9].
Reviews
Duolingo alone won't teach enough of a living language to ever replace a quality in-person teaching program, but it absolutely belongs in every language classroom and on every school device[10].
A Clever Plan to Teach Schoolkids New Languages With a Free App.[11]






See also
References
Ad blocker interference detected!
Wikia is a free-to-use site that makes money from advertising. We have a modified experience for viewers using ad blockers

Wikia is not accessible if you've made further modifications. Remove the custom ad blocker rule(s) and the page will load as expected.