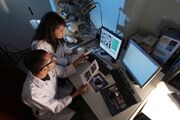 This details some 
scientific studies
related to
Duolingo
and its methods of language acquisition, translation,  and learning.
Scholarly and Peer Reviewed articles
Edit
Duolingo Effectiveness Study
Edit
"The research study of Duolingo effectiveness was independently conducted in September-November of 2012. The study lasted for approximately eight weeks. A random representative sample was selected from Duolingo users who studied Spanish. The participants were at least 18 years of age, native speakers of English, not from Hispanic origin and not advanced users of Spanish, and all of the participants resided in the United States." (VESSELINOV and GREGO, 2012)[1].
Learning a Language for Free While Translating the Web. Does Duolingo Work?
Edit
"Launched in June 2012, Duolingo boasts already at the time of writing 300,000 active language learners ready for the task. This article independently assesses the extent to which Duolingo, at its current stageof development, meets those expectations"( Garcia, 2013) [2].
"Duolingo has developed a computer adaptive test of English competency for non-native English learners. This research study of the validity and reliability of the Duolingo English test was independently conducted from February- April of 2014. The study lasted for approximately eight weeks. Participants were recruited from Duolingo users who studied English, international students in several United States universities, and people who took Test of English as Foreign Language (TOEFL) at several TOEFL centers in China. Participants were at least 18 years of age and had taken the TOEFL within the last 18 months."(Ye,2014)[3].
Duolingo as a new language-learning website and  its contribution to e-learning education
Edit
Duolingo "has an incredibly well elaborated methodical and didactic system, therefore there is almost nothing to suggest. But as the biggest weakness is seen the lack of authenticity and the unlinked language sentences to the use of language in everyday life situations – this applies tothe lessons, not translations".(Jašková, 2014)[4].
The Duolingo Certificate of English and East Africa:Preliminary linking results with IELTS and CEFR
Edit
Preliminary linking results with IELTS and CEFR
"We study the validity of the Duolingo Certificate of English for high-stakes university admissions, using data from Carnegie Mellon University's satellite campus in Rwanda. We find that Duolingo scores submitted during the 2015 application process are significantly correlated with IELTSTM scores (r = 0.834)."[5]
References
Edit
Ad blocker interference detected!
Wikia is a free-to-use site that makes money from advertising. We have a modified experience for viewers using ad blockers

Wikia is not accessible if you've made further modifications. Remove the custom ad blocker rule(s) and the page will load as expected.